17 May, 2021
Category:

Companies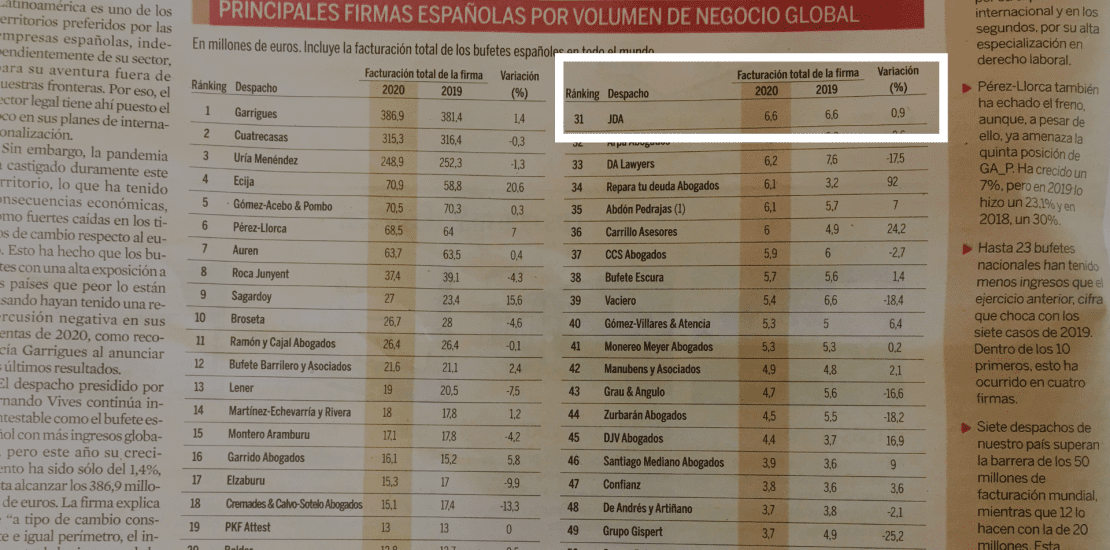 Today, May the 4th, the newspaper Expansión publishes its annual legal report for legal services with the Best laywers firms ranking in Spain. The report indicates the impact of COVID-19 crisis that has blurred the trends of previous years in legal sector. Companies have closed the 2020 financial year with a showing the great challenge that legal firms have to face in such an unusual scenario.
At JDA we have participated in Expansión's ranking since 2018 and in this period of 3 years we have gone from occupying position number 41 to 31 thanks to our policy of expansion and market growth.
JDA is therefore consolidated among the top 31 professional firms in Spain, out of 160,000, and is among the top 10 based in Catalonia, by turnover and number of professionals working in the firm. In addition, JDA is established as a benchmark firm in Granollers and throughout Vallés Oriental region as the most important law firm in the area.
Check here Expansión's ranking publication
---
JDA SFAI