1.- What are cookies?

Cookies are files that are downloaded to the user's terminal (computer / smartphone / tablet) when accessing certain web pages and which are stored in the user's memory. Cookies allow, among other things, store and retrieve information on the browsing habits of a user or his team, see which pages are visited, the connection time, analyze the operation of a page, if there are technical problems, etc. Depending on the information they contain and the way in which the terminal is used, they can be used to recognize the user.
2.- What types of cookies are there?

Depending on the entity that manages the cookies, they can be:
Own cookies. They are our property and managed by us
Third party cookies. They are the property of a third party who manages the information obtained by the cookie.
Depending on the time they remain activated they can be:
Session cookies. Designed to collect and store data while the user accesses a web page.
Permanent cookies. The data is stored in the terminal and can be accessed and processed during a period defined by the person responsible for the cookie, which can range from minutes to years.
According to their purpose they can be:
Technical cookies. They are used to allow the user to browse through the website or application and are required to strictly provide a service requested by the user, such as user input, authentication or user identification cookies (session only), security cookies of the user, session cookies of multimedia player, session cookies to balance the load, user interface customization cookies, add-on cookies (plug-in) to exchange social contents, etc…
Personalization cookies. They are used to store service configurations so that you do not have to reconfigure each time you visit the website.
Analysis cookies. They are used to monitor and analyze the behavior of users; it is used in the measurement of the activity of the web, elaboration of navigation profiles, etc…
Advertising cookies. They allow the management of advertising spaces and adapt the content of advertising so that it is relevant to the user and to avoid showing ads that the user has already seen.
Behavioral advertising cookies. They allow the management of the advertising spaces included in the platform from which the service is provided by storing user behavior information obtained from browsing habits, to offer personalized advertising according to said habits.
Social network cookies. They are used so that users can interact with the content of different social platforms, and are used by these platforms to perform behavioral advertising, analysis, monitoring and market research.
3.- What cookies do we use on our website?

The cookies used on our website are the following: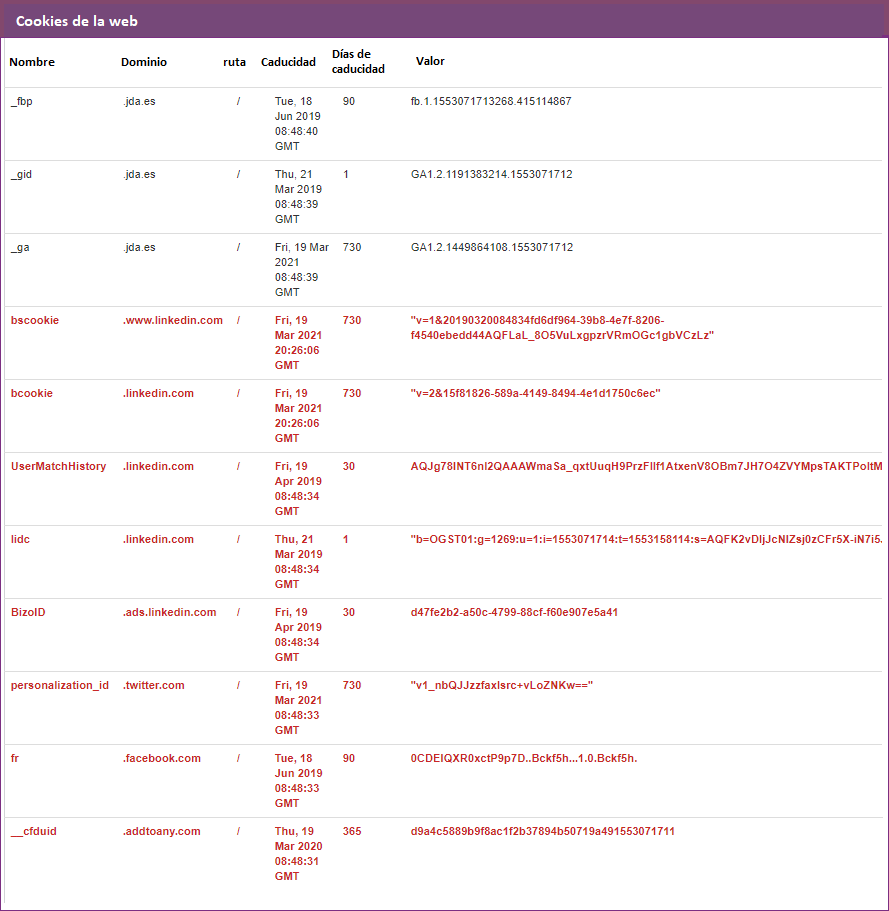 Purpose of the cookie :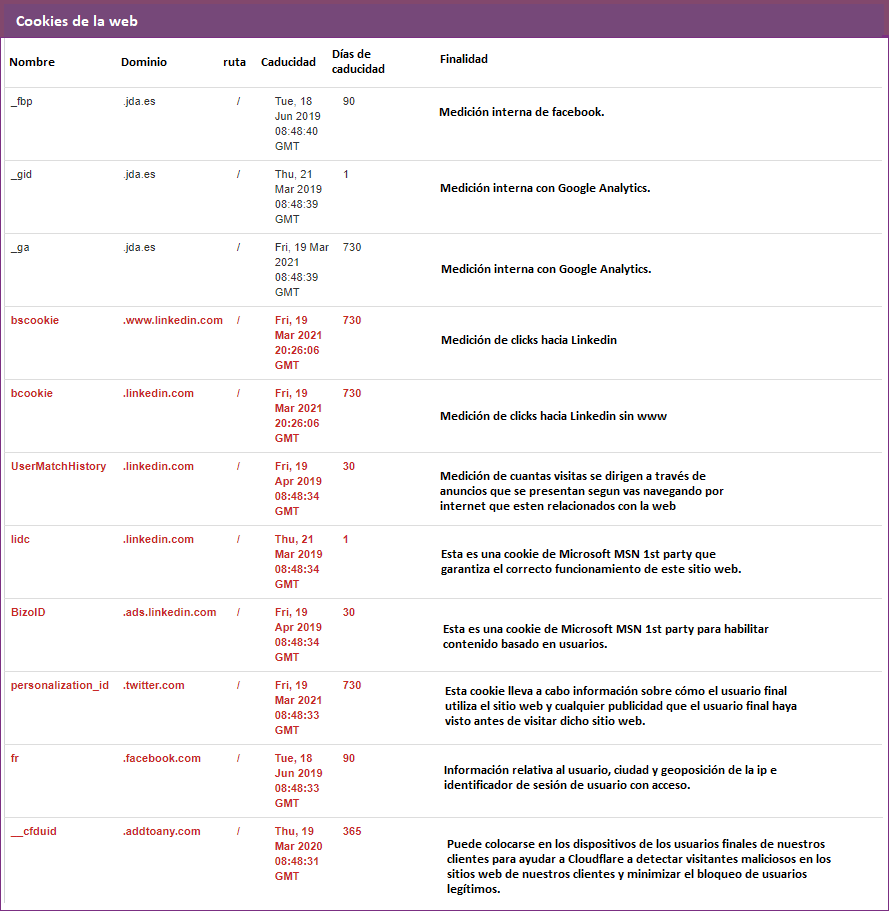 4.- Configuration and deactivation of the use of cookies in your browser

Most browsers indicate how to configure your browser to not accept cookies, to notify you each time you receive a new cookie, as well as to deactivate them completely. To control what use you want your information to be made, you can configure your terminal's browser in the manner you deem most convenient for you.
In any case, we would like to point out that if the technical and / or operational cookies are deactivated, the quality of the website may decrease or it may cost more to identify you.
We indicate the following links, where you can find more information about different browsers:
· Chrome https://support.google.com/chrome/answer/95647?hl=en
· Explorer http://windows.microsoft.com/es-xl/internet-explorer/delete-manage-cookies#ie=ie-10
· Firefox http://support.mozilla.org/es/kb/habilitar-y-deshabilitar-cookies-que-los-sitios-we
· Safari http://support.apple.com/kb/ph5042